Last year, we took the guest researchers to the "Pongoland" monkey house at Leipzig Zoo, an area where the Max Planck Institute for Evolutionary Anthropology conducts research into apes. This year, the project officially started on 15 June with a guided tour and a barbecue at the Mendelssohn House Leipzig. International scientists and guest researchers from the different research institutions as well as representatives from the City of Leipzig were invited to explore this interesting venue and to get to know each other.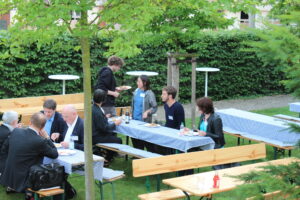 The Mendelssohn House is the place where the famous composer, music director, cultural politician and piano virtuoso Felix Mendelssohn Bartholdy lived and died and where today a very diverse exhibition pays tribute to his works. It is a gem on Leipzig's cultural landscape. The exhibition provides an insight into Mendelssohn's life and works, illustrated by letters, sheet music and watercolours.
After a small reception, the visitors gathered in the music salon on the first floor. Prof. Dr. Ulrich Brieler from the Department for Knowledge Policy of the City of Leipzig and Dr. Annemone Fabricius, coordinator of the "Welcome to Leipzig" project, welcomed the guests and explained the project. Ms Christiane Schmidt from the Mendelssohn House gave a talk on the house itself and the exhibition it houses as well as Felix Mendelssohn Bartholdy's life.
The visitors found the house very interesting indeed and were free to explore the exhibition on their own. Many of them
were fascinated by the multi-faceted exhibition concept and said they would like to come back and attend one of the morning concerts in the music salon.
To finish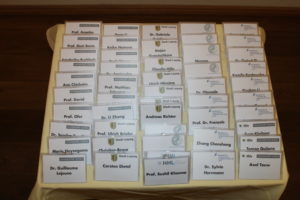 off the evening, the visitors got together in the idyllic garden of the Mendelssohn House to enjoy a barbecue. They shared their experiences and views about life in Leipzig, and many of the guest researchers shared anecdotes about life in their home countries.
It was a fruitful and informal way of bringing together people from Leipzig as well as from all over the world, allowing them to get to know both each other and an important part of Leipzig's music scene.
Report by Martha Fromme