Did you know that 2016 is the year of the monkey? At least in China! The Chinese calendar is quite different from the one we are used to, and started on 8 February. Unlike the Gregorian calendar which most of you are probably familiar with, the Chinese calendar is a lunisolar calendar. It uses astronomical phenomena as points of reference.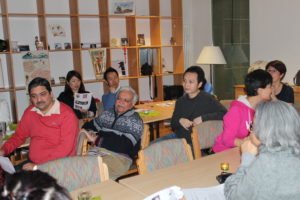 Since we wanted to know how Chinese people celebrate the turn of the year and were curious to experience it first-hand, we celebrated the Chinese New Year at the IBZ guesthouse. Ms Shunnan Xu was on hand to introduce the other residents of the IBZ to the customs and traditions surrounding the most important Chinese holiday. Coming from China and researching at the Confucius Institute in Leipzig, she was the perfect person to tell us all about how people celebrate in China.
Here's some of what we learned: According to tradition, windows and doors are opened to bring good luck into the families' homes during the festivities. Chinese people eat sweets to symbolically sweeten their New Year. When celebrating Chinese New Year, you should avoid wearing black and white clothes, because white is the colour of funerals and black stands for bad luck.
After she had taught us a traditional Chinese song (which we all sang together!), we enjoyed a delicious Chinese meal.
Report by Martha Fromme