The Karl Heine Canal is one of the most beautiful canals in Leipzig, meandering through the old industrial district of Plagwitz. Karl Heine, a lawyer, entrepreneur and industrial pioneer, played a key role in the urban development of Leipzig's western areas. Originally, he came up with the ambitious project of connecting the cities of Leipzig and Hamburg with a canal, which would have linked Leipzig with international waterways. Even though it is still not possible to boat all the way to Hamburg via the canal, it is a great way to discover Plagwitz by boat, which we did in May.
Together with 25 guest researchers and their families, we boarded the excursion boat "MS Weltfrieden" (meaning the MS "World Peace" – what a beautiful name!) for a tour of the Karl Heine Canal. The boat ride starte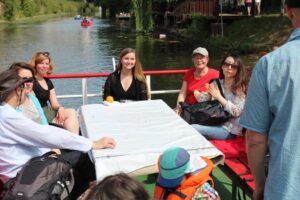 d at the stilt house which once accommodated a corrugated sheet metal rolling mill and a zinc coating shop. We headed to Lindenau harbour, which is now connected with the rest of Leipzig's waterways and lakes. Along the way we soaked up the lively atmosphere all around the canal. Plagwitz residents and visitors sit on the banks of the canal, enjoy the sunshine and dip their feet into the water. We then moved on to the "Weiße Elster" river in Schleußig, from where we admired the former coloured yarn mill building. It is one of the largest Wilhelminian-era industrial heritage sites in Germany. Having since been renovated, it now accommodates loft apartments, offices and professional practices. On our way to the Elster flood basin we passed a number of floating restaurants; one of these was an Italian restaurant that even offers gondola trips, so for a moment it was almost as if we were in Venice!
The beautiful landscape all around the canals and rivers, including the Palmengarten, Clara-Zetkin Park and the weir, rounded our boat ride off and inspired the guest researchers to discover more of the green spaces which surround the waterways.
Report by Martha Fromme